Despite the lack of evidence through multiple studies regarding the need of air duct cleaning, many homeowners have experienced cleaner air flow after choosing to get theirs cleaned. To some, it makes perfect sense; just as there is dust on the furniture there is certainly dust in the vents. It is also known that dust is quite capable of triggering allergies and possibly contribute to other respiratory complications.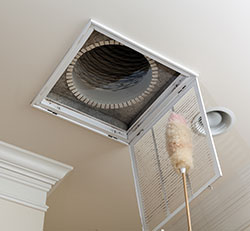 Fewer Allergies
Without all of the scientific statics and data, it could be as simple as having less allergy symptoms in the household after a HVAC system cleaning. Many homeowners profess of having much cleaner air quality throughout the home and less allergy symptoms. It is also suggested that their entire ventilation system performs more efficiently afterwards.
Money Saver
Other beneficial claims state that it eventually saves money on the energy bill. Popular opinion has suggested that this may be because you don't have to run the air conditioner as long due to improved fluency of air flowing out of the vents. Many homeowners say that they don't have to run it so often because of the increased airflow. The same thing goes for the heater during the cold season.
Facts Still Remain
These have been actual documented experiences from homeowners despite the fact that there has been no scientific proof that duct cleaning makes a difference in the air quality. The published findings by the EPA suggest the same conclusion, although it was published over a decade ago. Since then regulatory agencies in the industry have not changed and they still stand behind their findings.
However, both the NADCA and the EPA which currently represent over 1000 duct cleaning companies nationally do agree that there is some value in having your HVAC system cleaned. It's still quite arguable to how often though.